Zooco Estudio designs the ideal working environment for flexible professionals with little ones in tow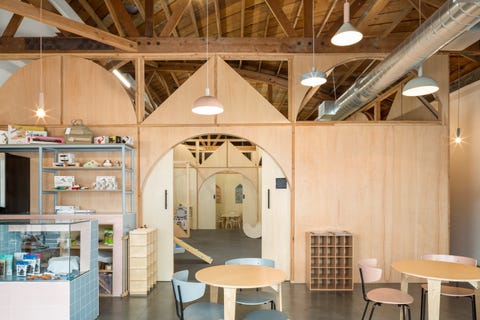 In California, coworking spaces are evolving as a sign of the times, striking a delicate balance between the professional and personal realms. So it came as no surprise when Zooco Estudio unveiled Big and Tiny, a work environment welcoming the children of its members in a space to learn and interact with peers without being separated from their parents. A concept that fully grasps the quintessence of smart working, parents at Big and Tiny are able to save time from rushing to and from daycares while cultivating a tight-knit community.
Imbuing the coworking space for parents with a signature style, Zooco Estudio was inspired by simple geometric forms. Founded in 2008 by Miguel Crespo Picot, Javier Guzmán Benito and Sixto Martín Martínez, the Madrid-based studio flaunts a prestigious portfolio with a wide variety of projects. Many will recognize their work at the Centro de las Artes di Verin, with its monolithic volumes, or the De Vinos y Viandas wine shop enclosing interiors marked by simple and sinuous lines. Their trademark, however, is a keen sensibility to craft a clear concept for each project, responding to the needs and pre-existing spaces of each site.
In this case, the 196 square meter space for coworking in Santa Monica was organized with a precise primary objective: to construct a welcoming atmosphere with the right mix of formality and familiarity, resembling a home with spaces dedicated to diverse tasks.
The property was thus divided into three macro-areas: one for play, one for work, and one for meetings. To order the respective spaces, an intricate intertwining of wooden trusses marks the ceiling, where visual continuity is established moving down between geometric references. Arches, triangles, and rectangles become the guiding lines to interpret each space in a free but modular succession inspired by puzzles.
The relaxing effect of natural wood is felt in the furnishings and lighting from Ferm Living, while high walls and select industrial elements like exposed tubing create a harmonious visual balance. The color palette, meanwhile, draws on typical daycares and calming tones like pink and sky blue, which are further exalted in the play area and the relax area with ceramic tiles.
At Big and Tiny, adults can work between the furnishings from Normann Copenhagen, make calls in the complete privacy of isolated stalls, or organize meetings. Meanwhile, the little ones are free to play or follow classes at the in-house art studio.
Some parents are lucky enough to have long maternity leaves. Major tech companies are starting to offer fantastic maternity policies. Netflix, for instance, offers unlimited maternity leave and pays a full year off while Amazon pays for spouses' parental leave. However, unfortunately, this is not the norm. Moreover, the only deferral law guaranteeing maternity leave in the U.S is unpaid- and it only applies to some employees.
The law that most women rely on is the Family and Medical Leave Act (FMLA) that offers eligible employees—about 60 percent of the workforce—12 weeks of unpaid leave after childbirth or adoption. Unfortunately, this law doesn't require the company to pay the employee during maternity leave; it only protects you from losing your job after taking some time off.
Studies find that paid leaves of at least six months have significant positive effects on maternal physical and mental health. With or without a long enough maternity leave, returning to work can be very challenging, especially for new parents.
Even if you have all the logistics and childcare in place, the emotional aspect of separating from your child can be heartbreaking.
Most parents have mixed feelings when returning to work after maternity (or paternity) leave. It is very common to feel sad about leaving your newborn in someone else's hands. Some parents feel relief or even guilt after maternity leave when returning to work. It can also be very scary to leave your child with someone else. The reality is that most of the times, parents are not ready to return to work.
These are some tips that can help the transition to go back to work.
1. Set up a daily routine and leave everything ready.
Make a detailed list with a daily routine including naps, meals, bath and baby care. Prepare a diaper bag full of necessary items for the day. If you are still breastfeeding, make sure you start storing milk several weeks before your return to work. Here are useful tips from Medela to prepare to return to work.
2. Take care of the logistics.
Either if you're enrolling your baby in childcare or hiring a nanny to take care of your child, do some research and choose the most convenient and that you trust the most. Recommendations from other moms are always an excellent way to go. Check this article about eight tips to find a child car.
3. Find some working space where you can bring your child.
If the company allows you to work remotely, find a co-working space with childcare close to you – this makes the transition easier and will enable you to work while having your baby close to you. Breaks are the perfect moment to visit your child, especially if you are breastfeeding. Ask your company if they are willing to invest in hourly or daily passes for co-working spaces.
4. Catch up with your team.
Get a head start and find out what's happening at the office before your first day – This will help reduce the anxiety of returning to work.
5. Make the transition as gradual as possible.
Consider the possibility of starting part time if allowed. If not, take a few days off during the first few weeks or leave early to spend some time with your baby.
6. Manage your time.
Due to the limited time, parents tend to develop an ability to manage their time more efficiently. Even if you work fewer hours, re-structuring your day will make the most of your time. Create a to-do list and focus on your priorities to maximize efficiency.
7. Talk to other Moms and Dads.
There is a whole world of moms out there who have experienced the same feelings you are going through right now. Share your feelings and concerns and welcome their tips and experiences. You can also join a mom group near you.
8. Set your expectations.
Time to be realistic and kind to yourself. Sleep deprivation is a very common symptom during this period so it's ok to be tired during your working hours and accept the fact that you might not be as productive as you were before.
9. Let your partner be part of the process.
There is no need to go through this on your own. It's ok to ask your partner to help during this process and team up.
Either you can make it part-time or take a few days off, have a coffee with your boss and find yourself some extra time to spend with your baby. If you're interested in learning more about our services and pricing come and visit us.